Our Abington School Directors Are Unethical
Friday afternoon November 4th it was revealed that ASD President Raymond McGarry intends to fill the vacant School Director seat with his former colleague Joshua Stein. Below is an unprofessional letter from Mr McGarry to the Abington Township Residents announcing this plan.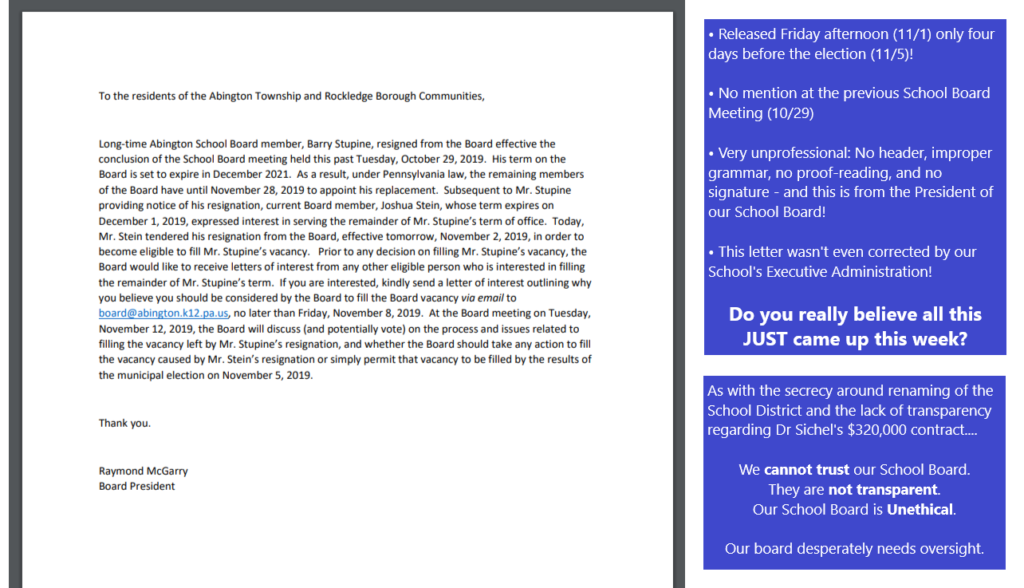 You can read the letter yourself directly from the Abington School District website: https://www.abington.k12.pa.us/media/2019/11/Board-Vacancy.pdf
Below is the guiding Pennsylvania State Law regarding replacement of School Directors. We have highlighted the important sentences pertaining to this situation.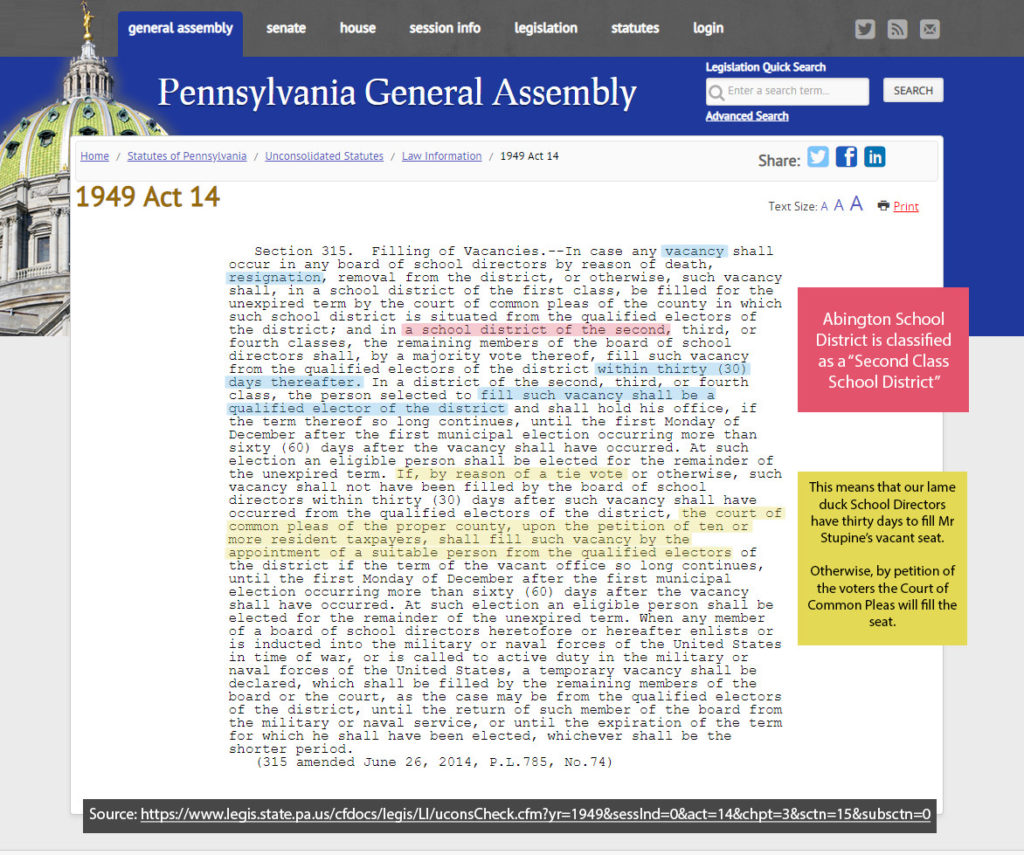 You can read this exact section of the Pennsylvania Public School Code here: https://www.legis.state.pa.us/cfdocs/legis/LI/uconsCheck.cfm?txtType=HTM&yr=1949&sessInd=0&smthLwInd=0&act=14&chpt=3&sctn=15&subsctn=0
Background Information
"Those who do not remember history are condemned to relive it."

George Santayana
Board caught supporting out-of-district candidate
Abington School Board exposed running a candidate for re-election who didn't live in Abington!
School Director Resigns
The out-of-district candidate abruptly resigns.
Board changes policy to appoint new School Director
The Abington School Directors changed long-standing board policy to appoint Joshua Stein to fill this vacant seat. It must be emphasized that Mr Stein worked for Mr McGarry in the County Solicitor's Office at the time. This important information was not revealed during the nomination process.
Board attempts to sell naming rights
The Abington School Board attempts to sell the naming rights of our School District behind the backs of Abington Residents.
Mr Stupine absent 14 times!
In the past year, Mr Stupine skipped 14 School Board Meetings.
Mr Stein withdrew candidacy
Mr Stein announces that he will not be running for re-election.
Mr Stupine announces resignation
At the October 29th School Board meeting, Mr Stupine announces his resignation from the board.
Board President announces intention to appoint Mr Stein
The Abington School Board President Mr McGarry announced his desire to appoint Mr Stein to Mr Stupine's vacant seat.
---
It seems like Joshua Stein much prefers being appointed to the board by four of his friends over putting his name and record on the ballot for re-election.
Our School Board
needs

ethical independent oversight.